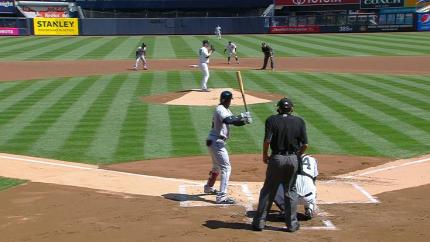 "He was brilliant," Yankees manager Joe Girardi said about Tanaka, who earned his first postseason win. "He gave us everything we needed."
Aroldis Chapman got a five-out save as the Yankees avoided a three-game sweep by the defending AL champions. With two on in the ninth, Chapman struck out cleanup hitter and former Reds teammate Jay Bruce before Carlos Santana flied out to end it.
New York got a splendid performance from Tanaka in an old-fashioned October pitching duel with Cleveland starter Carlos Carrasco. Tanaka received a big boost when Judge robbed Francisco Lindor of a two-run homer in the sixth.
RELATED: Judge robs Lindor
Bird came through with the huge hit New York had to have when he connected against Miller in the seventh.
"I was really excited, I'm not going to lie," said Bird, who was pumped up as he returned to the dugout.
Game 4 is Monday night at Yankee Stadium, with young ace Luis Severino scheduled to start for New York. Cleveland will go with Game 1 winner Trevor Bauer on three days' rest, though there's rain in the forecast.
"I consider this normal rest for me. I enjoy pitching on short (rest)," Bauer said. "If I could draw it out, personally, this is how I'd pitch every time."
New York rebounded from a bruising, 13-inning loss Friday in Game 2 that led to heavy criticism of Girardi, booed Sunday night by the home crowd during pregame introductions.
"Not the first time. I kind of expected it," Girardi said, acknowledging it's no fun to hear catcalls. "I've seen them boo players and managers that have a lot more status than I do. So I prepared for it. I prepared my family for it."